When I was a kid, I used to love latch hook kits, and for a time, I was somewhat of an unstoppable rug hooker. I was churning them out really quickly and covering my bedroom walls with bright rainbow and flower and animal carpeting, basically.
These days, yarn art is all the rage again! I've been seeing so many beautiful abstract weaving and rug hook pieces online and in boutique shops — and even my company, Urban Outfitters, has jumped on the band wagon with their Cold Picnic collection. I haven't yet purchased any fiber art that I've recently seen because prices have been super steep (Urban Outfitters is selling them for a thousand dollars), so I decided to try making some abstract, unpatterned of my own.
I was so inspired one night a few weeks ago, that I rode my bike through seedy and industrial southeast Philly on a mission to get supplies at A.C. Moore. I could've waited two days til my fella got back to the city with our car, and saved myself the terrifying bike ride, but when the spirit moves you… y'know how it goes.
This was my supply haul:
Lots of wool and acrylic yarn of varying weights
Latch hooking canvas
Latch hook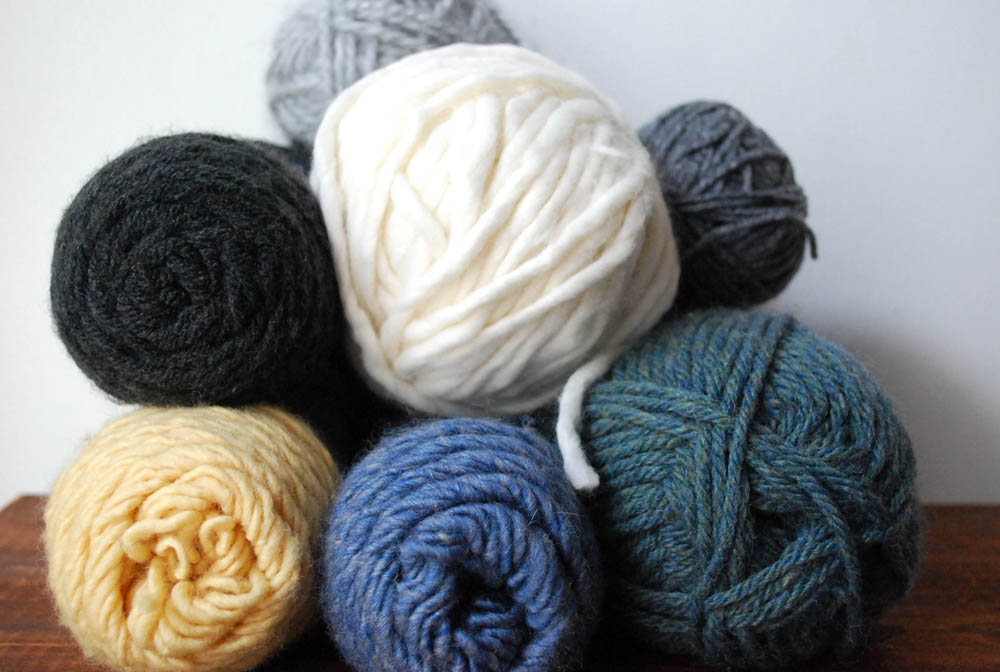 I had to google some basic instructions on latch hooking because it had been so many years since the last time I did it! Here's a basic rundown:
Push the hook underneath a horizontal horizontal crosshatch
Fold a strand of yarn around the base of the hook
Bring both ends of the yarn around to the tip of the hook
Pull straight down so the latch closes and the yarn comes down through the square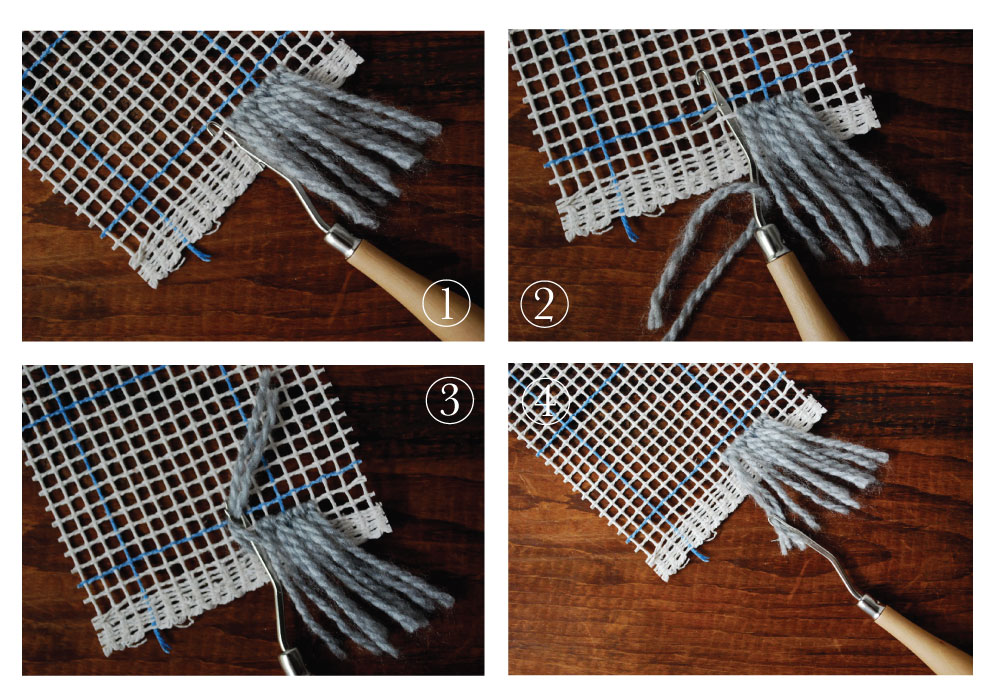 And it's typically a good idea to start from the bottom and move upward, so my first row looked like this: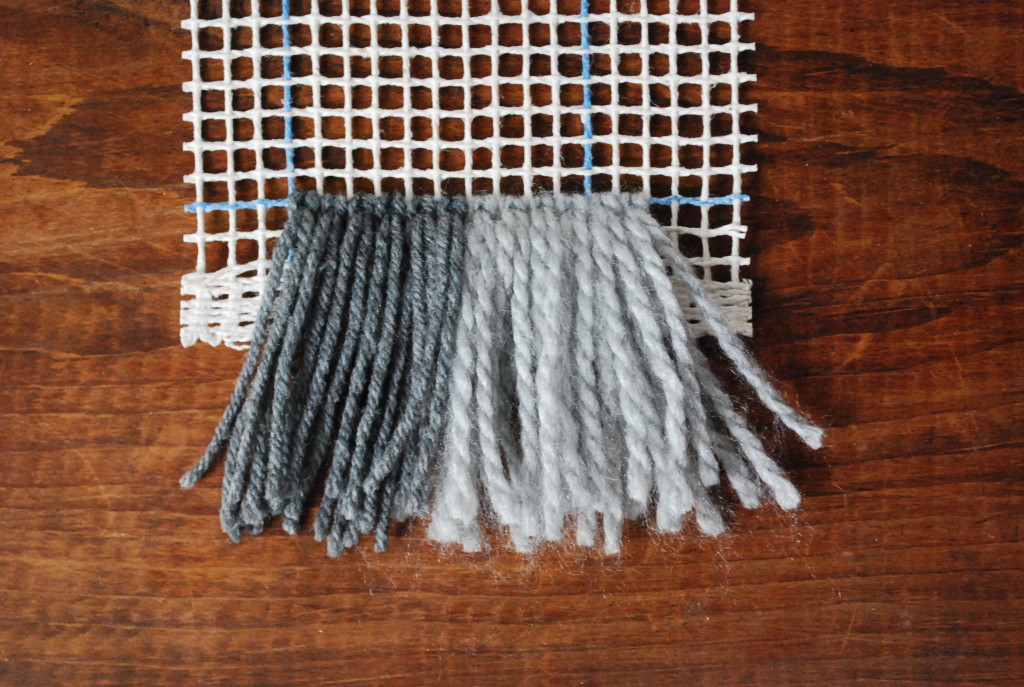 And the last row looked like this: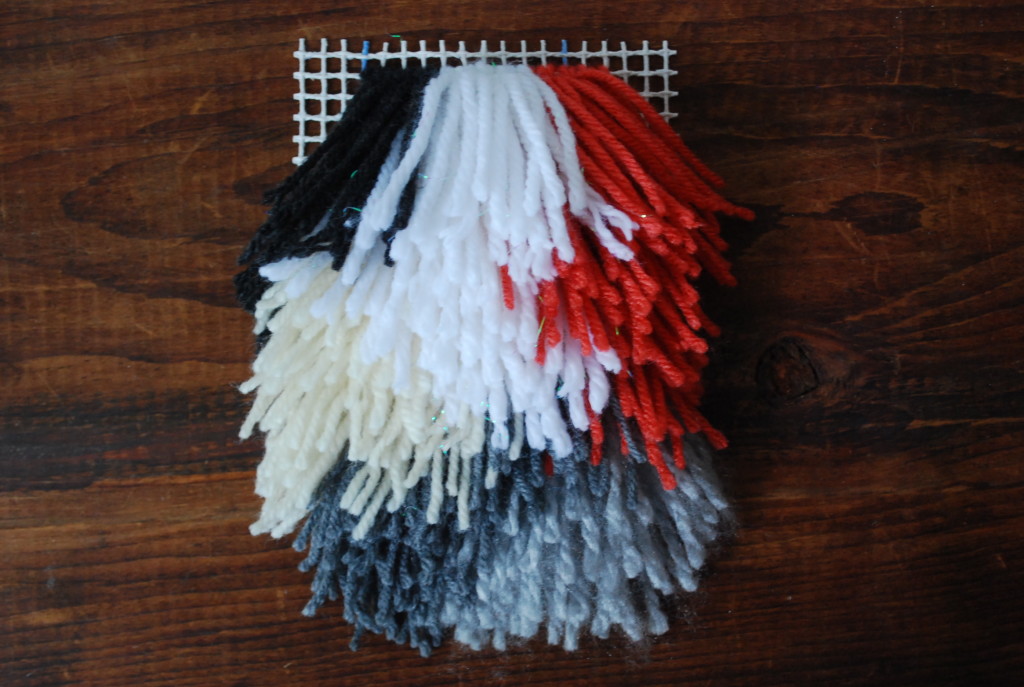 To create a clean edge, I trimmed off the extra canvas to leave just one row of squares on all sides, and then just hot glued some cotton piping along the edges.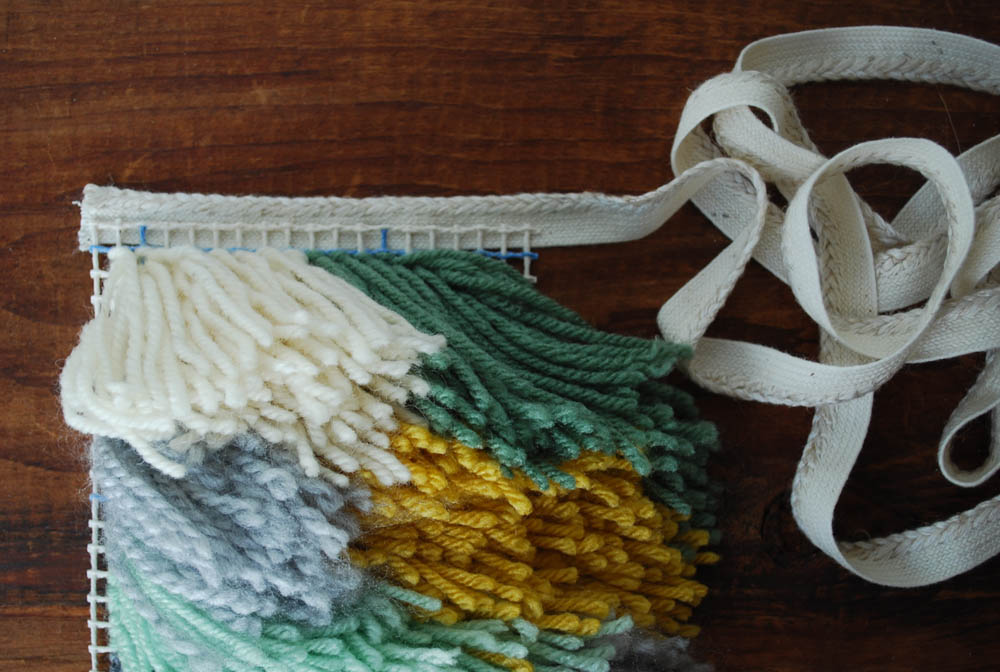 I've seen fiber art displayed a number of different ways, but I chose to use dowel mounts — actual wooden dowels, as well as natural branches and copper pipes. I used a pipe cutter for the first time in this project, and it turned out to be super simple! I ordered it online and got some copper piping in the plumbing section at Home Depot. Pipe cutters all work a bit differently, but the general idea is to just rotate the cutter around the pipe while gradually increasing its tension. I had to rotate my cutter about 4 times to cut through the copper.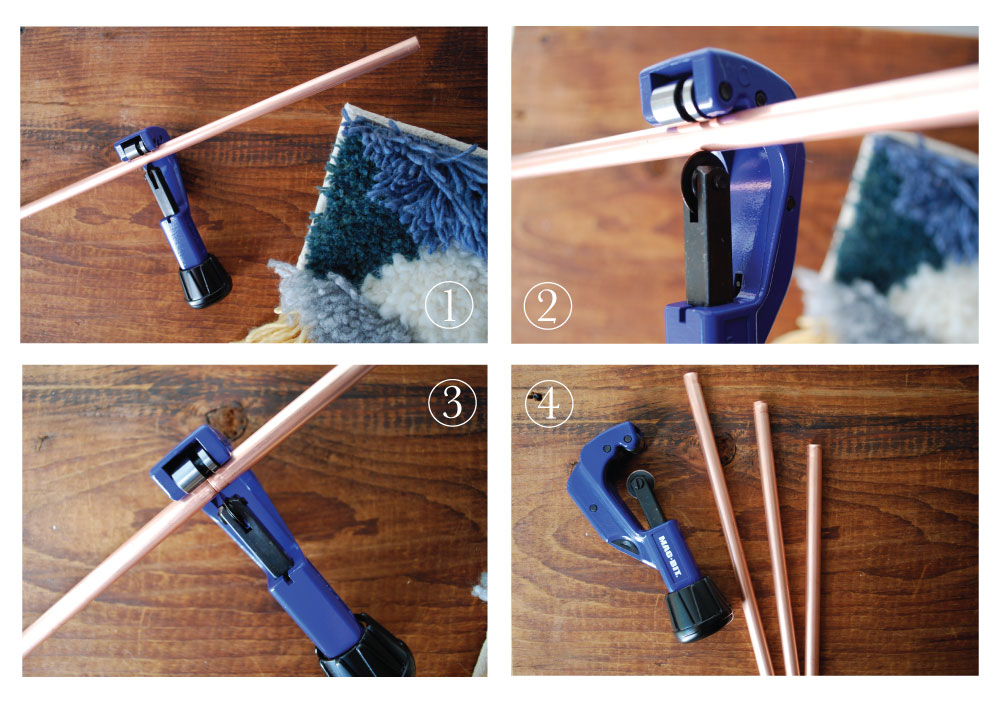 Then I used a large plastic knitting needle to loop some yarn around the pipe through the top row of stitch holes. For the triangle, I ran the needle through the pipe and tied a knot at the top.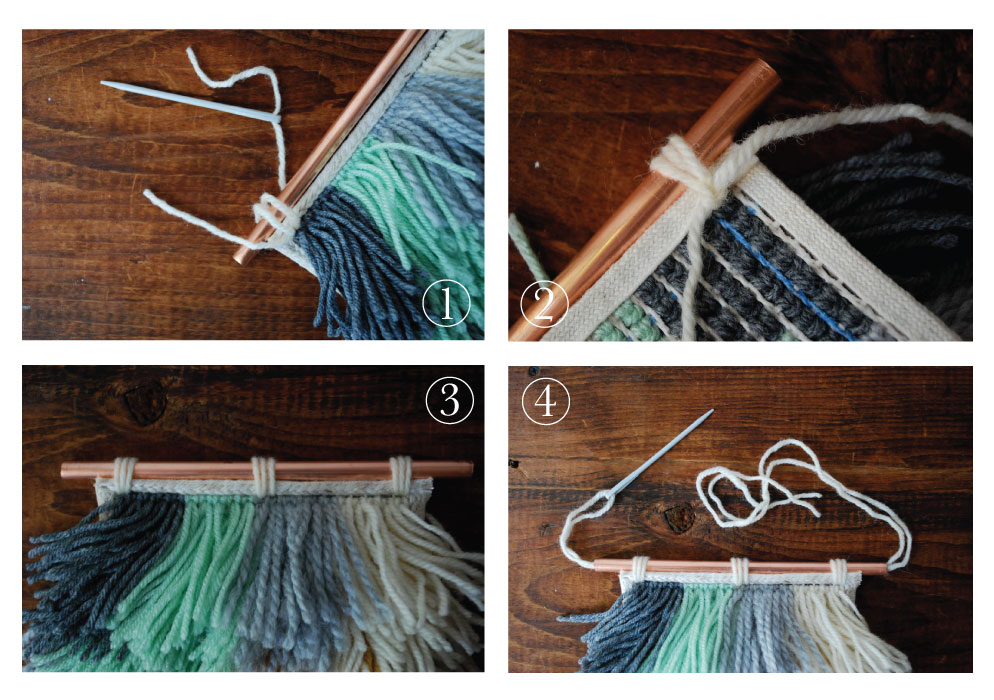 Et voila!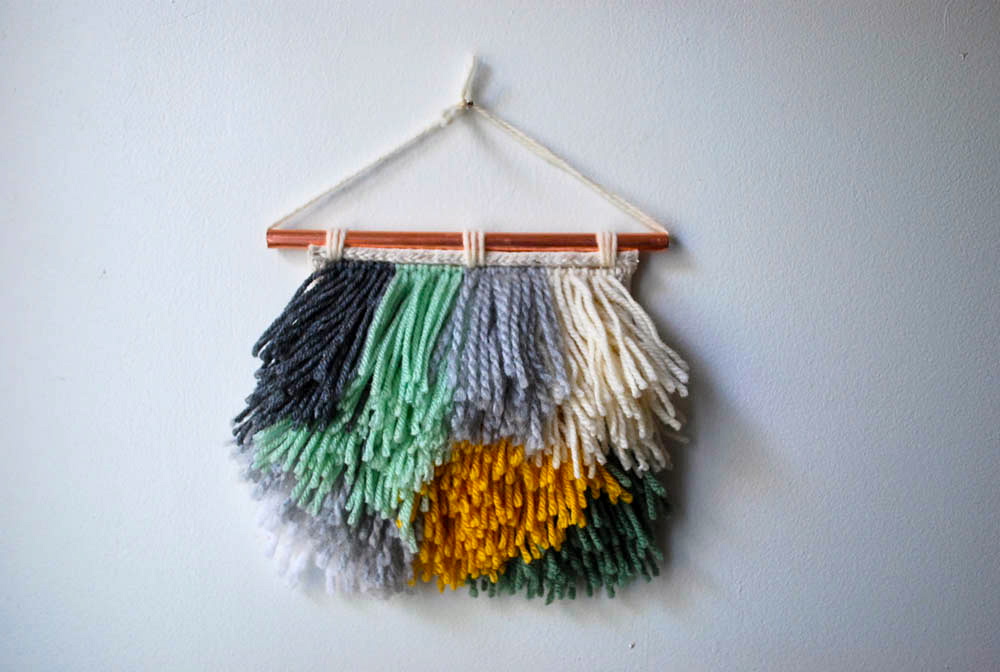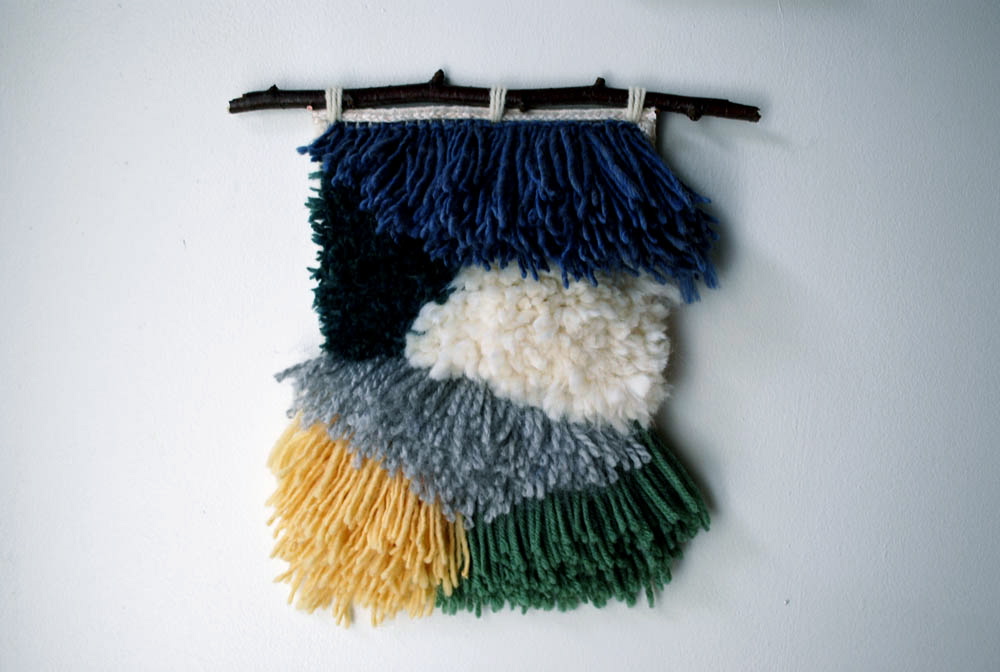 The piece above is probably my favorite out of the 5 or 6 I've made so far, because I like the look of varying yarn strand lengths. I'll definitely be making more in this style in the future. You can view all of the pieces I've made so far in Philodendron's Etsy shop — check them out and let me know what you think!